Weigh-In Results:
Diaz vs. Ito / Reyes vs. Bracero
LIVE on ESPN+, TOMORROW at 9:30 p.m. ET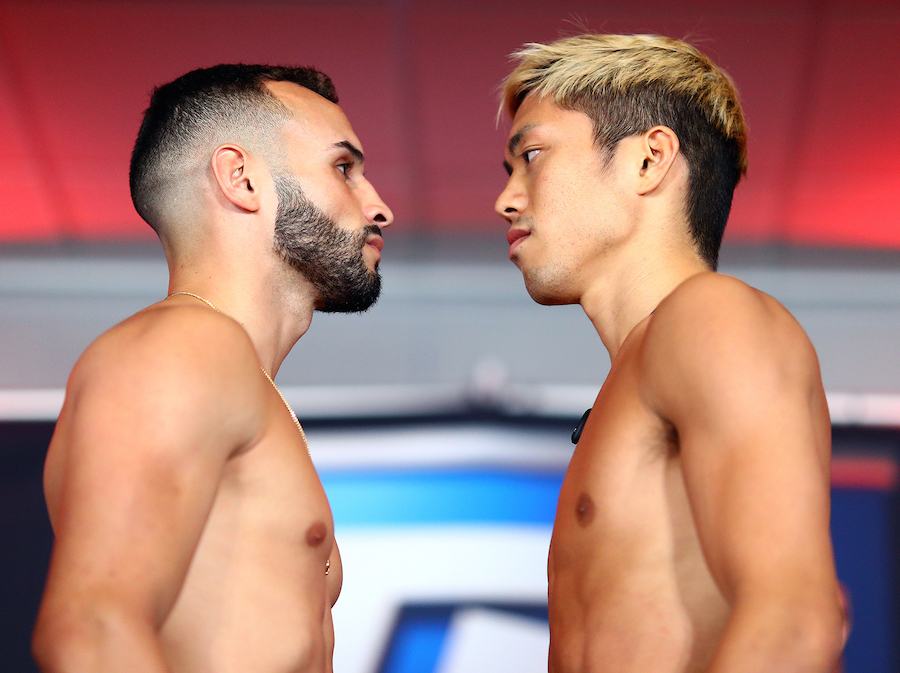 CLICK HERE FOR PHOTOS
(Photo Credit: Mikey Williams / Top Rank)

• Christopher Diaz 129.2 lbs vs. Masayuki Ito 129.6 lbs
(WBO Junior Lightweight Title – 12 Rounds)

• Artemio Reyes 149.6 lbs vs. Gabriel Bracero 148 lbs
(Welterweight – 10 Rounds)

• Esquiva Falcao 161.8 lbs vs. Jonathan Tavira 161.2 lbs
(Middleweight – 10 Rounds)

• Antonio Vargas 118.2 lbs vs. Aaron Echeveste 117.8 lbs
(Bantamweight – 6 Rounds)

• Yomar Alamo 141.2 lbs vs. Wilfrido Buelvas 141.8 lbs
(Super Lightweight – 6 Rounds)

• Henry Lebron 131 lbs vs. Luis Diaz 129.6 lbs
(Super Featherweight – 6 Rounds)
• Jose Lopez 145 lbs vs. Jorge Rodriguez 149.2 lbs
(Welterweight – 6 Rounds)
• Luis Melendez 126.4 lbs vs. Vicente Loredo 125.8 lbs
(Featherweight – 4 Rounds)
• Vladimir Nikitin 125.2 lbs vs. Edward Kakembo 126.2 lbs
(Featherweight – 6 Rounds)
Diaz-Ito and Reyes-Bracero will stream live and exclusively in the United States at 9:30 p.m. ET on ESPN+, with undercard action set for 6:30 p.m. ET on ESPN+.
Promoted by Top Rank, in association with All Star Boxing, remaining tickets to this world championship event, priced at $100 (red carpet ringside), $50 (lower bowl), and $30 (general admission), may be purchased at the Kissimmee Civic Center box office, online at ticketerapr.com, or charge by phone at (787) 305-3600.
For more information visit: www.toprank.com, www.espn.com/boxing; Facebook:facebook.com/trboxing, facebook.com/trboxeo, facebook.com/espndeportes; Twitter:twitter.com/trboxing, twitter.com/trboxeo, @ESPN @ESPNBoxeo,@ESPNDeportes. Use the hashtag #DiazIto to join the conversation on social media.
About ESPN+
ESPN+ is the first-ever multi-sport, direct-to-consumer subscription streaming service from The Walt Disney Company's Direct-to-Consumer & International segment in conjunction with ESPN.  ESPN+ offers fans two exclusive original boxing programs The Boxing Beat with Dan Rafael (Tuesdays, weekly) and In This Corner (twice monthly). In addition to boxing content, fans can watch thousands of additional live events, on-demand content and original programming not available on ESPN's linear TV or digital networks. This includes hundreds of MLB, NHL and MLS games, Grand Slam tennis, Top Rank boxing, PGA TOUR golf, college sports, international rugby, cricket, the full library of ESPN Films (including 30 for 30) and more. Fans can subscribe to ESPN+ for just $4.99 a month (or $49.99 per year) and cancel at any time.
###