ROCKIN' FIGHTS 33 UNDERCARD ANNOUNCED 
TYRONE "PRETTY BOY" JAMES LEADS THE UNDERCARD
AT ROCKIN' FIGHTS 33
INCLUDING BATTLE OF TWO UNDEFEATED LIGHTWEIGHTS:
 OMAR BORDOY VS TERELL BOSTIC
New York, November 26, 2018
With former World Champion, CHRIS ALGIERI's (21-3 8KO'S) much anticipated return to the Paramount on November 30th nearing closer, the excitement for STAR BOXING'S "ROCKIN' FIGHTS" 33 continues to build with the announcement of an electrifying, action-packed undercard. While Algieri will be taking on tough Texan veteran. ANGEL "HITMAN" HERNANDEZ (14-11-2 9KO'S) in his homecoming main-event at The Paramount, a fantastic undercard has turned an already thrilling night of boxing to the next level.
In the co-feature bout, TYRONE "PRETTY BOY" JAMES (8-0 5 KOs) of Elmont, Long Island will be making his seventh appearance at The Paramount as he takes on LEONARDO ESQUIVEL CARRIZALES (5-5 2KOs). This will be an 8-round super welterweight bout.
No stranger to the bright lights and atmosphere of the Paramount, the undefeated Long Island native Tyrone James will be looking to remain so, as he rises through the ranks in the super welterweight division. James' most recent performance at the Long Island venue was on June 8th of this year, and it ended in superb fashion as he earned a first round TKO victory over Keasen Freeman.
"I love it man. It's like a home to me now," said James about fighting at the Paramount. "They brought me in. They love watching me fight. They support me, and I know once that bell rings people will be screaming my name. I love it."
Undefeated Wyandanch native, TERRELL "THE PROBLEM CHILD" BOSTIC (3-0 1 KO) will be making his return to the ring against up-and-comer OMAR BORDOY (6-0 2KOs). Bostic has fought all of his professional fights at the Paramount and will look to solidify the venue as his home on November 30th. Danbury, Connecticut's Bordoy will be fighting for the first time in New York as he looks to extend his unblemished record to 7-0. In a battle of the "0's" only one man will leave The Paramount with an undefeated record intact. This will be a 6-round lightweight tilt.
Bellport, Long Island's ALEX "EL TORRO" VARGAS (1-0) will also be bringing the hometown support with him as he makes his second professional appearance at The Paramount on November 30th. A champion at 165 pounds in the 2013 New York Golden Gloves, Vargas debut fight in September at the Long Island venue was full of excitement. With the energy of the crowd roaring through the place, Vargas marched his way towards a unanimous decision victory. Vargas will be taking on JARILL HAADI (pro-debut) of Rochester, who will be making his pro-debut. This will be a 4-round welterweight bout.
Making their professional boxing debuts will be DASHAUN "TOO SWEET" JOHNS (pro-debut) of the Bronx, NY and Vietnamese martial artist VU VAN HAI (pro-debut). Johns had a successful amateur career with a record of 50-12, winning the 2016 Title National Championship and winning Silver in the 2017 Golden Gloves Championship at 141 pounds. His opponent, Vu Van Hai, is a renowned VoViNam and Muay Thai fighter, boasting a number of achievements such as Imperial Level Three of VoViNam and Taekwondo Bronze Medalist. He will be traveling from Vietnam, his home country, half way around the world, early next week for this fight. This will be a 4-round jr. welterweight bout.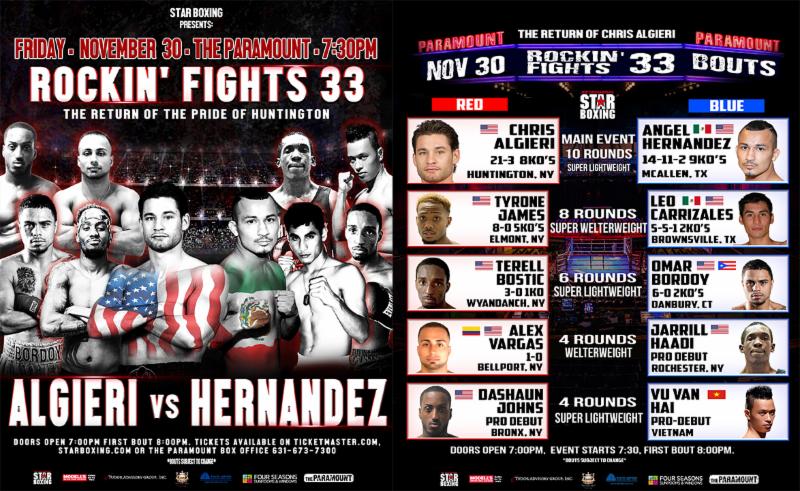 INFO:
Chris Algieri, who was developed at the famed Star Boxing venue, The Paramount, moved to the big stage and had a career defining, real life "Rocky" story unfold on HBO on June 14th, 2014 at the Barclay's Center, in Brooklyn, against heavily favored and feared Ruslan Provodnikov (then 23-2 16 KO's) for the WBO World Championship. After peeling himself off the canvas two times in the opening round, Algieri put on the fight of his life. With one eye virtually closed, the gutsy Algieri fought the rest of the fight in brilliant fashion dominating the defending champion Provodnikov to become the new WBO Super Lightweight World Champion*.
The win catapulted the local sensation to international fame. Algieri was awarded a mega-multi-million dollar fight with boxing legend and superstar, Manny Pacquaio. The Pacquiao-Algieri bout took place around the world in Macao, China and was telecast on HBO/Pay Per View.  Subsequently, Algieri continued to take the most challenging bouts taking on world class fighters such as Errol Spence Jr and Amir Khan, after the Pacquiao fight.
Algieri decided a couple of months ago that he was ready to make a comeback and re-signed a promotional agreement with his long-time promoter Joe DeGuardia and Star Boxing. The two agreed it was time to return to the roots of Algieri's career and give back to the loyal Long Island fans.  Therefore, on November 30th, after a two-year layoff, Chris Algieri returns home to the place where it all began, The Paramount.  Algieri will headline "Rockin' Fights" 33 as he begins another march towards a World Championship fight.
*Note:  Super Lightweight Division is also known as the Junior Welterweight Division and both have a Maximum weight of 140 lbs.
TICKETS TO "ROCKIN' FIGHTS" 33 ARE SOLD OUT!
FIGHT: FRIDAY, NOVEMBER 30TH, 2018
_________________________________________________________________
TICKETS FOR "ROCKIN' FIGHTS" 34 ON FEBRUARY 22ND
FACTS:
ROCKIN' FIGHTS 33 is presented by Joe DeGuardia's Star Boxing. "Rockin Fights" is sponsored by Modell's Sporting Goods, David Lerner Associates, Four Seasons Sunrooms & Windows, Camelot Limousine and The Tudor Advisory Group.
*If you are interested in becoming a sponsor, please email us at
TICKETS:
Tickets for "Rockin' Fights" 33 have officially SOLD OUT. Don't miss out on your chance to be at "Rockin' Fights" 34 on February 22nd HERE. Tickets are on sale now.
CONTACTS:
For a quarter century, Star Boxing keeps on swinging!  Star Boxing has consistently delivered boxing events of the highest caliber and attracts loyal fans from all corners of the globe. From the Antonio Tarver – Roy Jones trilogy to the meteoric rise of Chris Algieri and Joe Smith Jr. from the Rockin' Fights Paramount Series, Star Boxing continues to work with and develop world rated contenders and red hot prospects into future world champions. Star Boxing is revered worldwide throughout the industry for its credibility, integrity, and exciting fights.
ABOUT THE PARAMOUNT:
Since Opening in September 2011, The Paramount has become a top live entertainment venue.  Located in Huntington, Long Island, New York; The Paramount – in concert with TD Bank, America's Most Convenient Bank® – hosts a variety of concerts, comedy, boxing and other special events. Booked by Live Nation and utilizing Ticketmaster ticketing; The Paramount hosts an average of 200 events per year. In less than 5 years since opening, The Paramount has quickly established itself as the premier live venue on Long Island – the 20th largest U.S. media market (*2.5M HH-Arbitron: Nassau/Suffolk MSA).  Pollstar Magazine ranked The Paramount as the #11 club venue worldwide (*Att. Q3 '15). With almost 70k+ Facebook fans & 10k+ Twitter followers, the venue was also ranked by Billboard Magazine as the "23rd Hottest Club" in 2014.
[
ABOUT MODELL'S SPORTING GOODS:
Founded in 1889, Modell's Sporting Goods is the local family sporting goods destination that provides a convenient and compelling shopping experience for the athlete and fan in all of us.  Modell's offers customers an assortment of top brands in sporting goods equipment, footwear and active apparel for every level of play year round.   The retailer operates 153 stores located in New York, New Jersey, Pennsylvania, Connecticut, Rhode Island, Massachusetts, New Hampshire, Delaware, Maryland, Virginia and Washington, DC.  In addition, visit, http://www.Modells.com, which services customers all over the country.
ABOUT FOUR SEASONS SUNROOMS & WINDOWS:
For nearly 50 years, Four Seasons has been a leader in manufacturing innovative, quality sunrooms and has become one of the largest manufactures of seasonal screen enclosures, greenhouses and year-round sunrooms, solariums and conservatories in the entire world. Four Seasons has been defining the cutting edge in glass room and outdoor product design, manufacturing and marketing since its inception in 1972. We are the company that sets the standard other companies attempt to follow.
ABOUT THE TUDOR ADVISORY GROUP:
The Tudor Advisory Group provides strategic consulting services, coaching, and education in the areas of organizational improvement (Lean/Six Sigma), organizational development, and customer experience/engagement across industries for businesses, not-for-profit companies, and healthcare agencies of all sizes.   Our experts have over 25 years of experience in the area of organizational transformation, partnering with companies to reach their strategic goals and objectives. We believe in knowledge transfer where we ensure the organization is self-sufficient prior to the end of the engagement. For further information please contact Alan Cooper at (212) 653-0086.
ABOUT DAVID LERNER ASSOCIATES:
Originally started in 1976, David Lerner Associates is a privately-held securities broker/dealer, with clients' assets totaling approximately $5 billion. While offering a range of investments, we feature those that we believe are based on real value and are designed to pay dividends, distributions or interest. We believe the best way to help you achieve your financial goals is to meet with you face-to-face, either in your home or our offices.
Official Sponsor of the Paramount Boxing Series, Camelot Limos is a family owned and operated business located in Nassau County, with over 25 years of professional experience; serving satisfied clientele since 1984. The owners of Camelot Specialty Limos are very active in the business and play a major role in the company's day-to-day operations. Camelot Specialty Limos, Inc. is an Accredited Member of the Better Business Bureau.  www.camelotlimo.com
TiedIn Media is a talented, professional, and experienced Long Island web development and marketing agency. We create experiences that elevate brands, create connections, and help businesses flourish. We strive to provide the opportunity for businesses to expand across all marketing platforms, connecting them with their customers and building profitability.
We are well prepared to handle any of your business' needs, whether you are a small, new business or older and more established. At TiedIn Media we can help you with your branding by redesigning or creating your web presence, print marketing, and even social media sites so that every piece of marketing

material works meticulously with your brand's essence and perfectly communicates your mission. 

 https://tiedinmedia.com/