CATSKILLS CLASH
OFFICIAL WEIGH-IN RESULTS
ENTIRE CARD CAN BE SEEN LIVE ON FITE.TV PPV 
New York, June 27th, 2019
The entire Catskills Clash card weighed-in today at Resorts World Catskills, ahead of tomorrow night's fights. Tomorrow night's entire card, including all three featured ABO Title bouts will be available via FITE.TV PPV.  FITE, the world leader in the digital distribution of combat sports will stream the event live on the http://www.FITE.TV website, FITE mobile apps for iOS, Android, and the FITE channels of Amazon Fire, Android, Apple TV, and Roku on a PPV basis.  The FITE PPV will stream all five bouts and be available for just $9.99.  Check availability in your area by going to the FITE.tv website.
8-ROUND ABO AMERICA'S CRUISERWEIGHT FEATURED BOUT
RICHIE "POPEYE THE SAILOR MAN" RIVERA: 187.8 lbs.
BRIAN "MVP" HOWARD.: 189.6 lbs.
8-ROUND ABO AMERICA'S WELTERWEIGHT FEATURED BOUT
DYLAN "THE REAL DEAL" MORAN: 144.4 lbs.
8-ROUND ABO AMERICA'S SUPER LIGHTWEIGHT FEATURED BOUT
"ACTION" ANTHONY LAUREANO: 142.8 lbs.
DIEUMERCI "ELPHANT" NZAU: 141.8 lbs.
4-ROUND WELTERWEIGHT BOUT:
ROBERT DURAN JR.: 147.4 lbs.
JERMAINE CORLEY: 148 lbs.
4-ROUND CRUISERWEIGHT BOUT:
LAWRENCE KING: 184.8 lbs.
PEREZ AUGHTRY: 181.8 lbs.
If you could not catch the weigh in LIVE, watch HERE.
Resorts World Catskills Doors open at 7:00PM, first bout at 8:00PM.
Catskills Clash is presented by JOE DEGUARDIA'S STAR BOXING, on a great night of action at Resorts World Catskills with an ABO America's Championship Triple Header featuring three undefeated rising prospects in "ACTION" ANTHONY LAUREANO, DYLAN "THE REAL DEAL" MORAN and RICHIE "POPEYE THE SAILOR MAN" RIVERA. The night also features ROBERT DURAN JR., son of storied boxing legend, Roberto Duran, and LAWRENCE KING, Monroe County Deputy Sheriff, making his second professional appearance.
OFFICIAL BOUT SHEET: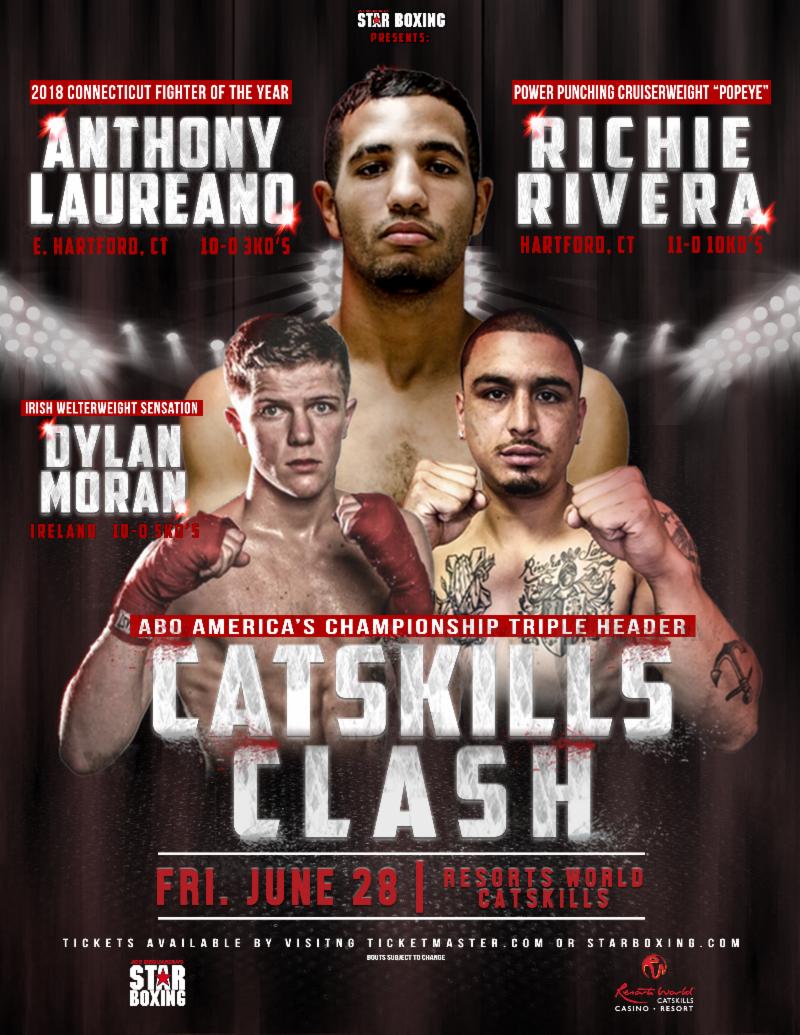 CATSKILLS CLASH: Laureano, Moran, Rivera June 28th
Media Use: Credit Star Boxing or tag @StarBoxing
Star Boxing presents: Catskills Clash, an ABO America's Championship Triple Header at Resort Worlds Catskills on June 28th.
On June 28th Star Boxing brings boxing back to the Catskills at Resorts World Catskills for an ABO America's Championship Triple Header. The thrilling night of fights will include three undefeated rising stars, looking to claim their stake as ABO Champion.
Undefeated, "Action" Anthony Laureano (10-0 3KO's) of East Hartford, Connecticut will bring his come forward, all action style to Resorts World in search of his 11th consecutive win, in an effort to take home the ABO America's Super Lightweight Title. Every time the 2018 Connecticut Boxing Hall of Fame Fighter of the Year steps in the ring, it's guaranteed to bring the crowd to their feet.
Undefeated Irish sensation, Dylan "The Real Deal" Moran (10-0 5KO's), will be making his United States debut as a large contingent of Irish fans will be watching the #2 rated Irish welterweight take his chance at the ABO America's Welterweight Title. Moran, a 6 time Irish National champion, has been creating extreme buzz in Irish boxing, and is ready to preform under the bright lights of Resorts Word Catskills on June 28th.
Undefeated power punching cruiserweight, Richie "Popeye The Sailor Man" Rivera (11-0 10KO's) will be vying for the ABO America's Cruiserweight Title in his first bout under the Star Boxing banner. Always bringing excitement whenever he fights, Rivera tends to finish the night before the distance, so he sure to get to Resorts World Catskills early, to not miss this Hartford, Connecticut product, put on a show for boxing fans.
All media credentials must be submitted by MONDAY JUNE 24, 2019 at 8:00PM. All late credentials may not be conisdered. Only accredited media will be considered. Apply,
HERE
.
PREVIOUS RELEASES:
Catskills Clash Fight Week Schedule
Catskills Clash Press-Conference 
ABOUT RESORTS WORLD CATSKILLS:
Located in the heart of New York's Catskill region, 
Resorts World Catskills Casino Resort
offers guests unmatched experiences in excitement, entertainment, and luxury. The integrated commercial casino resort includes an 18-story hotel, casino and entertainment complex featuring 100,000 square feet of gaming action including 150 live Las-Vegas style table games, 1,600 state-of-the art slot machines, a poker room and private gaming salons. The casino resort also offers more than 10 varied bar and restaurant experiences, which includes an Italian steakhouse created by celebrity chef Scott Conant, and year-round live entertainment at the 2,500-seat RW Epicenter, casino bars and lounges. The luxurious hotel located within the Resorts World Catskills' casino complex is comprised of 332 suites, the Crystal Life Spa, two indoor pools, and two fitness centers. The integrated casino resort also includes additional stay and play destinations on its campus, including The Alder, an adjacent 101-room lifestyle hotel featuring the first Topgolf Swing Suites in New York State, and Dos Gatos, a cantina-style Mexican eatery and the recently opened Kartrite Resort and Indoor Waterpark.  A Rees Jones redesigned golf course is currently under construction.
ABOUT STAR BOXING ®:
For a quarter century, Star Boxing keeps on swinging!  Star Boxing has consistently delivered boxing events of the highest caliber and attracts loyal fans from all corners of the globe. From the Antonio Tarver – Roy Jones trilogy to the meteoric rise of Chris Algieri and Joe Smith Jr. through the Rockin' Fights Paramount Series, Star Boxing continues to work with and develop world rated contenders and red-hot prospects into future world champions. Star Boxing is revered worldwide throughout the industry for its credibility, integrity, and exciting fights.
For more information on Star Boxing, visit official website: www.StarBoxing.com